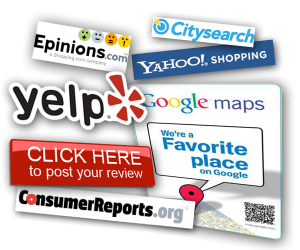 Online reputation is most of the times a master key of making the decisions for any potential customer, we know 85% of potential buyers look at and compare prices and services on the web before making any purchase.
Another drawback is the blossoming of recommendations or reviews sites, fully accepted and taken into account by our dear Google.
The point, if someone is dissatisfied with your services or customer service, this negative or positive comments, easily can been posted on these sites, FOR FREE! making your company looks bad in a simple Google search. And of course will rank as a any webpage on Google search.
What happens? because it obvious? simple … to be victims of this complaint (justified or not) it is written in these pages or directories, when a potential new customer wants to know more about us.
If you just Google your name find one (or more) or those BAD reviews (often is the the first on the list) coming from of an upset customer, what you already spend some money on your web services (SEO, Webpage, Adworks), how something like this can makes us look SO BAD, you can do???
Panic?
first time, yes, but this has to be taken to handle it coolly. First, do nothing, let it alone, do something it just will show you as a very impulsive person, remember every message will be stay post for everyone to read.
World wide web is not a boxing ring…
Move away from the keyboard or your iPhone or BlackBerry … BUT DON'T ANSWER BACK.
Mostly of those cases can be "fix" in a different way, beyond a "public scene" away from the spotlight, don't give the chance of a street fight, this will bring negative consecuences for your image or your company reputation.
Transform a bad situation into an opportunity
See the brighter side of this "comment" (if it have one)
In the online world some type of "negative" comments are opportunities to get a important opinion about your business, a real one, customer feedback is critical.  SO Listen to your customer, it helps to shape your customer services approach or product, even so you company will look more real. Otherwise if the comment is too offensive, is better not to answer, consult your SEO expert and try to find a "reasonable" exit to this situation.
Then you will realize, Customer feedback is one of the best ways to make your business successful…
Every situation needs a different kind of approach…
A lawyer, actor or a dentist web reputation case cannot be handle like a Department Store web reputation case or an actor, or restaurant's reputation, different scenarios and different amount of facets, but each case… we have GOOD NEWS for you.
Good News, we can help!
there are many ways to handle this successfully, imagine how many big companies in the U.S. have handled this situation by the great masses of people who handle daily complaints, refunds, etc.
To get started check your name in the pages of comments and recommendations on the web most important…
http://www.yelp.com
http://www.miami.citysearch.com (or city where you are in)
and your company in the business directory Google there will also be written comments
Make search as a "YOU NAME complaints" in Google
Let us know, we can help for sure! Call Us at 786-285-7343 for a FREE review!
and we can planning how to "rebuilt" your online image as soon as possible. We serving Miami-Dade and Weston areas, Doral, Coral Gables, Brickell, Miami Springs, Hollywood, Fort Lauderdale, Pembroke Pines, Hialeah, Kendall, FL.