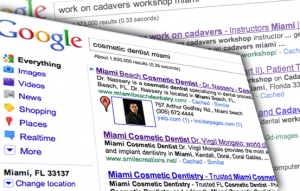 Every career has its own formula in this vast world of marketing and advertising, working only with the right tools offered by the Web, we can give you the desired results, of a nice look for your website and the traffic your practice deserves.
A Dental Office that wants to offer their services and specials and want to expand their list of patients, the only way to market it is with advertising, but old ways to promote this, such as newspapers and magazines, don't has the good old results anymore.
Webpages and eMarketing for Dentists.
This is not a secret, but presence in the internet takes more than a beautiful website, it needs, the right information and web optimizations, keywords, tags, etc, then, Google (the most important browser on the world) will know you webpage exists.
Social Media Network plays an important role too, channels such a Facebook, Linkedin and Twitter, give you the boost and the potentialpatients in amazing ways.
Give your dental practice the chance to be in
EVERYWHERE.
We can launch all your services, specials, coupons, experience, etc, just where you need it, in the hands of thousands of potential patients.
The Internet offers a wide range of services and solutions to achieve specific results, in cities like Miami, Hialeah, Doral, Kendall, Coral Gables, where the audience is mixed in many ways, language, nationalities, ages, etc.
Why wait?
give us a call (786-285-7343) and get your FREE quotation for your new Web Page for your Dental practice!